Australian artist Tones and I is set to perform this coming Saturday in the interactive online Fortnite Soundwaves event where she'll be showcasing a virtual concert.
The singer released her debut album 'Welcome to the Madhouse' over six months ago and is expected to perform a mix of old and new songs. Tones and I said of the upcoming event "The Madhouse experience in Fortnite is sick and I can't wait for you all to see it".
Fortnite's Soundwaves event began in September 2021 with the idea of introducing new artists from around the globe to gaming and audiences alike with the first artist to be featured in the online music event being Egyptian singer Mohamed Hamaki. Upcoming acts of the Soundwaves series include Brazilian rapper Emicada, Japanese artist and music producer Gen Hoshino and French singer Aya Nakamura.
Epic Games senior partnerships manager Emily Levy told the Rolling Stone last year that the event will help usher in a new era of online entertainment.
"The opportunity here is to present these enormous artists, who are hugely popular in their respective countries and regions, to Fortnite players on a global scale," she said.
"Fortnite is evolving from a battle royal game to a global social entertainment platform,"
"It's really important we start on a regional level as we look for talent, and these regions we choose have some of the most positive and engaged Fortnite communities."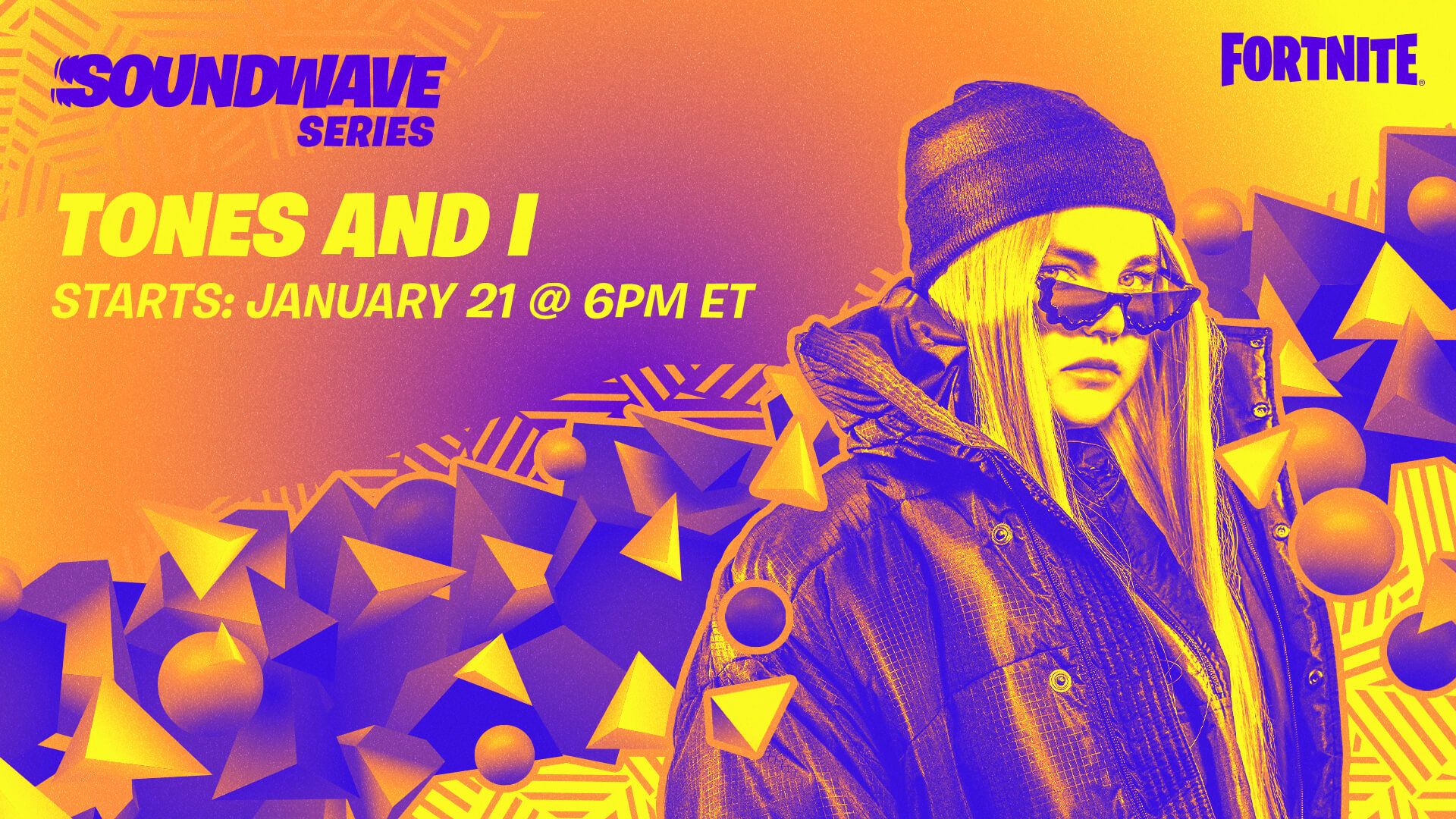 In conjunction with the musical event, Fortnite players can also purchase Tones and I songs in the Item Shop. Tracks that can be purchased include hit songs 'Dance Monkey' and 'Cloudy Day' and will come with accompanying dance moves for the emote, costing 300 and 200 V-Bucks according to Gamespot.
Most fans of Fortnite and Tones and I appear to be ecstatic for the immersive online tour with one twitter user @SnoworchidP saying "Can't wait… and dance monkey emote tonight…ferking epic wtg!!!" However, there are a few who will be skipping the online concert with @pkaysTV saying "oh god not the dance monkey person, I'm ending it all".
Tones and I rose to fame in 2019 with her hit single 'Dance Monkey' which saw her go to number one in over 30 countries with the song spending 16 weeks at the top of the ARIA charts. She was 19 when she discovered by music lawyer Jackson Walkden-Brown on the streets of Byron Bay where she had been busking for some time according to NME.
The interactive event will be free for all Fortnite players, running repeatedly for a total of 72 hours. It begins at 10 am AEDT on January 22.